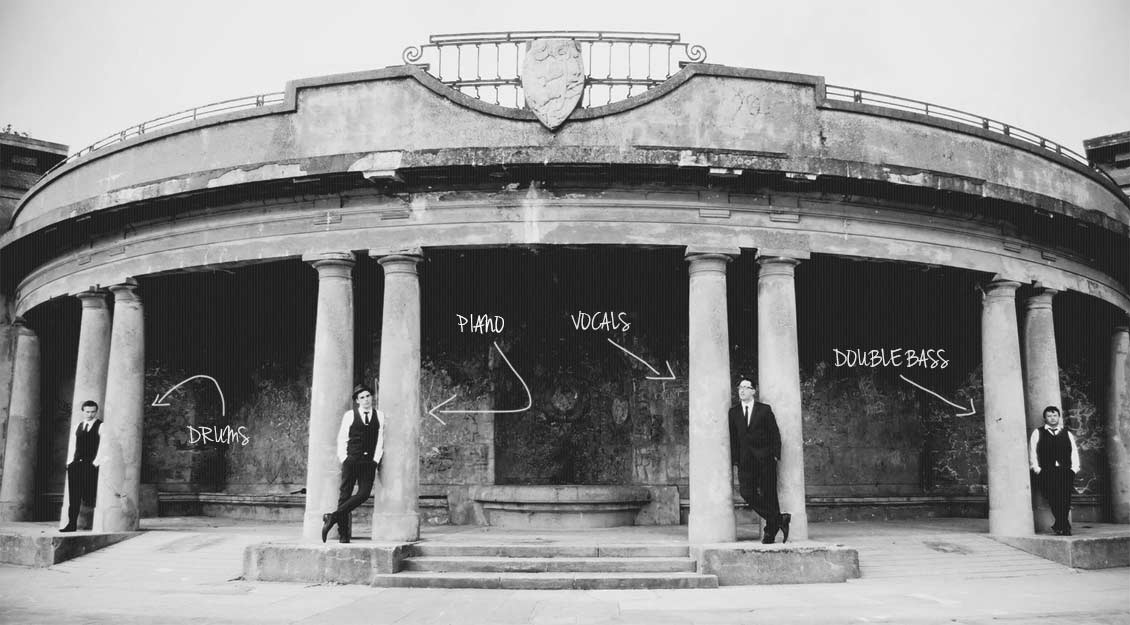 Hertfordshire Swing Bands
Hire a Hertfordshire swing band for your wedding reception, birthday party, function or ball.
The Swing Band are a Hertfordshire swing band for hire with a wealth of experience performing at events all over Herts including charity balls, corporate events, parties, weddings and more.
The 4-piece swing band consists of Sinatra style lead vocals, piano, double bass and drums to create that authentic 1940's jazz/swing sound as made famous by the likes of Dean Martin, Frank Sinatra, Tony Bennett and The Rat Pack. The band also offer the option to add Sax and guitar to the line-up for a bigger sound, suitable for larger events and evening performances for dancing.
The Swing Band come completely self-contained providing full PA system in their fees. The band can also provide iPod music between sets free of charge or afterwards for a small extra fee.
If you're looking to hire a Hertfordshire swing band please send through your details using the contact form below. The band are available to hire in the following areas in Herts: Bishop's Stortford, Borehamwood, Broxbourne, Cheshunt, Harpenden, Hatfield, Hemel Hempstead, Hertford, Hitchin, Hoddesdon, Letchworth, St. Albans, Stevenage, Watford and Welwyn Garden City.
Watch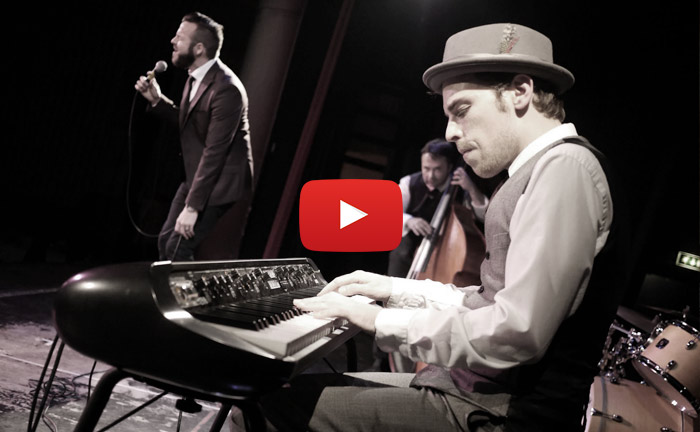 Set

List
Fly Me To The Moon
Come Fly With Me
How Sweet It Is To Be Loved By You
Moondance
I Get a Kick Out of You
Mr Bojangles
One For My Baby
Mack The Knife
Moonlight in Vermont
What a Difference a Day Makes
I've Got You Under My Skin
They Can't Take That Away From Me
King of the Swingers
Mack The Knife
Have You Met Miss Jones
Cry Me a River
Straighten Up and Fly Right
They Way You Look Tonight
I'll Be Seeing You
Ain't That A Kick In The Head
Georgia
Beyond The Sea
The Nearness Of You
Ain't Misbehavin
Girl From Ipenema
My Baby Just Cares For Me
The Lady is a Tramp
Dream A Little Dream Of Me
All of Me
Hit the Road Jack
Let's Face the Music and Dance
That's Life
New York, New York
You're Just too Good to be True
It Don't Mean a thing if it Ain't Got That Swing
Feeling Good
Let ther be Love
You are my Sunshine
You Make me Feel so Young
It Had to be You
Too Close for Comfort
Sway
Testimonials
This was the second time i have hired The Swing Band once for a dinner and dance and once for a wedding, really love their style of music, they are great singers and musicians and would throughly recommend them

Elizabeth Linden - Private Party

I'm finally getting round to dropping you a line to say thank you for being part of an amazing evening and having you and your band there making it an event to remember. So many positive comments and feedback about the night and 'where did you get that band they were amazing'. All I can say is if we ever need a band again, or any of our friends are looking for one, we would have no hesitation to recommend you. Thank you for making our wedding reception what it was. Have a great day!

Paul Foster - Wedding

We just wanted to say a huge thank you to you, the singer and the rest of the band for making our wedding so very special.. you guys are brilliant!!! I must admit we love swing music but we were a little nervous how a swing band was going to go down with all our guests. We were blown away with how much our guests thoroughly enjoyed the band and that's from the 8 year olds running around dancing to our grandpa who might I add is 101 - you made his year, he enjoyed every minute listening to you and refused to leave until you had finished and he even got up, for a brief minute, and even danced with me.. Thank you so very much. The singers voice was pure liquid gold.

Glynnes dos Santos - Wedding

Claire and I wanted to say a massive thank you for kicking off the party at our wedding on Friday. It was an incredible evening and we're grateful for the part you guys played. Many thanks and best of luck with the rest of the season!

David and Claire - Wedding

All our guests were equally complimentary and we would like to say to the Band members how appreciative we are for their performance on the day. We were told that the saxophonist was a late replacement and if this was the case he did amazingly well but i guess that shows they all experienced musicians. The singer was great and the range of music was just what we had hoped it would be. All in all therefore we were very satisfied with the Band and thank you all again for your contribution.

David Potter - Wedding

The Swing Band are so amazingly talented and full of energy. We had a full dance floor all night. I just need another excuse for a party to hire them again. So many people commented to us and also spoke to them directly to say how brilliant they were. I would highly recommend them.

Kerensa Klottrup - Wedding

I am so pleased you asked for feedback on The Swing Band as I really wanted to be able to share how truly impressed, overjoyed and simply thrilled we were by their performance at our wedding. They exceeded my wildest expectations! The vocals and the music set the evening off in the most atmospheric way possible and the quality and ability of the band was commented on by almost every guest. Could not recommend them enough. Very happy :)

Ellie Dearden - Wedding

Just wanted to say thanks for an amazing performance on Friday, really really enjoyed it and got incredible feedback from everyone there! Please do thank the rest of the band and let me know if there's anything I can for you.

Nicholas Strange - Party

The band were just absolutely fantastic! So helpful before hand, so friendly on the night and the performance was brilliant. Everyone commented on how great they were and what an authentic and natural swing sound they had, not a touch of karaoke! I couldn't recommend them enough.

Rosanna Gale - Wedding

On behalf of Matt and I we would just like to say thank you SO much. We danced the night away. Spent most of the reception on the dance floor. Every song was amazing you surpassed our expectations and everyone commented on how fab you were! Thank you thank you thank you!!

Holly Neave - Wedding

Peter and I would like to thank you all for the fantastic set you played at our wedding. You really set the mood for our guests and we received only positive comments from everybody. It was an absolute pleasure to work with you. You have been so professional from start to finish and that reflected in your performance on the day. Both Peter and I agree that the choice of music and your image really complimented the venue and the ambiance. Please pass on our compliments to all the band members as you all deserve to know how fantastic you were. Thank you once again for being part of the most magical day of our lives.

Sanya & Peter Loizou - Wedding

Positive, friendly and talented, exactly what we wanted! Thank you!

William Hodgson - Wedding

We chose The Swing Band because we wanted music that was classy, fun and something everyone could dance to. They absolutely delivered. They started with a low key set before our first dance, a special version of The Beatle's I've Just Seen a Face. The band were tight and professional; you could tell they enjoyed playing. The singer brought humour and personality to the songs, sometimes improvising little skits or involving the crowd in choruses. All in all The Swing Band made a great difference to our wedding day. We would strongly recommend them to anyone looking for something timeless and fun to add a touch of swagger to your evening. Thanks again for your work on the day. You genuinely were a real treat.

Aran Rees - Sabre Tooth Panda

My husband Sam and I would like to thank you and The Swing Band for the fantastic music they performed on our Wedding Day. I have never seen so many guests dancing at a wedding before! We all really enjoyed the quality, professionalism, and groove of the entire band! It was a huge success! We wish you and The Swing Band lots and lots of success in the future and will make sure to highly recommend your services!

Isabelle & Samuel Johnson - Wedding

I want to say thank you very much for organising the band at KIm & my wedding on saturday. They were brilliant, very professional at all times, looked the part and helped make our wedding the very special day it was. They are a great bunch of lads and wish them all the success in the future.

Neil Bannister